Atlantic Biorefinery Conference takes over Fredericton
June 7, 2017
By Atlantic Biorefinery Conference.
June 7, 2019 - The Atlantic Biorefinery Conference is taking place June 7 to 9 in Fredericton, N.B. Going into its sixth year, the Atlantic Biorefinery Conference is a dynamic three-day conference that sparks discussion and new projects that transform our natural resources into value-added products and business opportunities.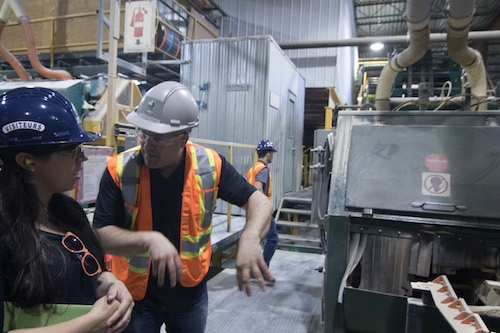 Biorefining is a set of technologies that transform natural material and waste into high value products like biofuel, building materials, and natural products. These opportunities are part of a vision for a sustainable future and circular economy where our natural resources are used to their full potential.
This is the bioeconomy, and it's already creating skilled employment and launching new businesses in our resource-rich region.
Speakers are travelling from across Canada and Europe to deliver presentations on an variety of topics including the transformation of landfill waste into biofuel, building a self-sufficient energy source on a small dairy farm, and recent developments in the biorefining sectors in Nova Scotia, Ontario and Finland.
Jussi Manninen, from VTT Technical Research Centre in Finland, will be discussing the positive outcomes of Finland's bioeconomy strategy and how their experience could serve as a model for Atlantic Canada. Murray McLaughlin, an award-winning bioeconomy leader with New Brunswick roots, will be sharing his strategy for building a bioeconomy business cluster "the Canadian way."
The Conference kicks off May 7 with a hands-on day of tours at New Brunswick-based biotechnology companies and research centres. Guests will get up close and personal with a boat tour at Cooke Aquaculture, fire-fighting planes at Forest Protection Limited, and world-class clean water experts at ADI Systems, to name a few.
The Atlantic Biorefinery Conference is a meeting-of-the-minds for entrepreneurs, researchers, and civil servants to learn about opportunities in the bioeconomy. The Atlantic Canada region has all of the pieces it needs to grow its bioeconomy and to attract and build world-class businesses. Vast arable land, natural resources, and innovative minds have laid the groundwork, and with progressive policies and investment Atlantic Canada can be a player in the global bioeconomy.
"We are proud to be an organizer of the Atlantic Biorefinery Conference again this year," says Josée Landry, Manager of the Biorefinery Scale-Up Centre at Collège communautaire du Nouveau-Brunswick (CCNB). "Our goal is to help researchers and businesses develop technologies to grow our economy. The annual Atlantic Biorefinery Conference is a great chance for everyone in our field to come together and share information and ideas."
"Springboard Atlantic has been involved in the Atlantic Biorefinery Conference since its beginning. We see it as a key opportunity for researchers and entrepreneurs to exchange ideas that spark action to develop new projects to transform our natural resources into valuable products that can grow our local economy," says Chris Mathis, President & CEO, Springboard Atlantic.
---
Print this page