Bunyon Bros. shares experience with The Beast chipper
January 16, 2017
By Christopher Smith Bandit Industries
Jan. 16, 2017 - "If you order it like this you save $9," said Ron Rinell as he maneuvered his breakfast of eggs, ham, and a side of hollandaise sauce into position to create a delectable dish of eggs benedict.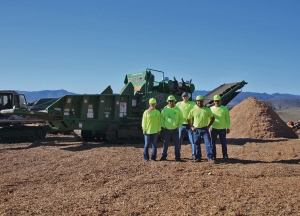 He was very happy with the meal, especially since his daughter was home from college to share the breakfast with him. But he's also very keen about getting his money's worth, and while the eggs benedict breakfast at the world-famous Madonna Inn is delicious, having that extra $9 in your pocket makes the "self-assembled" version taste even better.
Ron could certainly afford the eggs benedict if he wanted it. He's the owner of Bunyon Bros. Tree Service, headquartered in San Luis Obispo, Calif., and serving the entire San Luis Obispo County. Tucked neatly between Los Angeles and San Francisco on California's picturesque Central Coast, San Luis Obispo (or SLO to the locals) has something of a reputation for being the happiest town in America.
The local population of 44,000 love it, and the floods of tourists who visit each year seem to love it as well. Watching Ron enjoy his breakfast while sharing stories of surfing and travel, it's pretty easy to see he loves SLO as much as anyone. It's certainly a great place to build an all-encompassing tree care business — Ron and his 30 employees handle everything from removals to land clearing, stump grinding, pruning, disease treatment, firewood, crane service and more. Among his fleet of machines are five Bandit hand-fed chippers and The Beast – a newly acquired Model 3680 Track that's the first to combine Bandit's 30-tooth cuttermill with a 1050-horsepower CAT diesel.
With The Beast dialed in, he's running chipper knives on knife cutterbodies to produce specifically sized chips for a major nationwide company specializing in playground material. Starting with whole trees, he makes the precise product his client needs in a single pass. And when other clients come calling for mulch, swapping the knives for cutting or grinding teeth is barely a 15-minute operation on the 30-tooth cuttermill.
"They want us to make chips for them, for playground use," explained Rinell. "We are their source to make chips with The Beast to distribute throughout California. They want to purchase 20,000 to 30,000 yards right now, and it's a really good, specific chip they need. This project alone was good justification to get The Beast because it would finance the machine, never mind all the clearing projects I had to turn away. We have new screens and baffles going into The Beast to make the certified chip they need, and Bandit has really helped us with the configuration to make just the right product."
And that's the "new" big project Bunyon Bros. is taking on. The company recently picked up a job for a local military base, clearing 1,000 trees in two weeks that he'll also be tackling with The Beast. That's in addition to daily removals and trimming projects, not to mention their work for both the city and the county — everything from parks to roadways. They are also contracted to the city which puts them on-call 24 hours a day in case of emergencies. As a result, Bunyon Bros. is the largest tree service operation in the area. And they're always busy.
"The drought is what's driving the business right now," said Rinell. "It's killing trees all over the place. We didn't get five inches of rain all last year, and now with El Nino, people are thinking they should get the big trees over their homes taken down before the storms do, but they want it done right now. We're backed up a month; they're almost angry because they have to wait. But the El Nino, it seems to be hitting up north and down to the south, but it's missing us."
The drought is certainly bad, but business is good for Ron and his company. He's continually added employees over the last few years, growing Bunyon Bros. into a multi-million dollar company. Part of that success is certainly due to his eye for efficiency and getting the most from his investments. He only employs the best of the best, and his philosophy for purchases is that he should be making ten times the investment of the machine. That alone says something about The Beast's earning potential for companies like Bunyon Bros Tree Service.
But the real key to Ron's success is the same kind of determination that separates those who work to get by, versus those who work to get ahead. That's easy to understand once you hear the two-part origin story of Bunyon Bros., because it's really something.
"I had a friend who had 7,000 acres, and his father wanted us to clear it so we started cutting trees," said Rinell. "He was a professional bull rider, and his friend was also a bull rider, and I was a jock and I had a friend who basically drank beer and cut trees. We were all sitting around the barbeque one evening just bragging it up, comparing ourselves to 'our brother' Paul Bunyan and arguing about where he was originally from. We'd had a few drinks and were really getting steamed with each other when one of the guys said 'you each say you're Paul Bunyan's brother? I guess that makes you the Bunyan brothers.' And that's when Bunyon (with an O) Brothers Tree Service was born."
As neat as that story is, the Bunyon Bros. of today stems from a very different set of circumstances.
"I was young and dumb; the guys and I dissipated for a while and I got in some trouble," said Rinell of his early days. "I turned it around, went to school, got a degree in international business, but when companies found out about my past, I couldn't get a job. I'd sold all the tree equipment I'd had and I swore I wasn't going back, but I bought the equipment back and opened my own business. I got a contractor license and went legit with the company in 2000. At that point I was basically homeless, but I had nothing else."
Working as the sole person behind the company, Ron gradually built Bunyon Bros. to the company it is today. For the longest time he ran chippers from a different manufacturer until one of his climbers talked up the benefits of Bandit. Ron bought his first Bandit chipper four years ago, and he's bought one every year since.
"I really like the support team from Bandit; the customer service is great," he said. "The designs are great too. We had problems on the other chippers with the throat being too large; there was too much space between the feed wheels and the drum and the brush wouldn't feed right. I also like the four knives on the Model 1590 as opposed to the two-knife setup on others. And I love my Model 1890 – it grabs material right away, and it has 225 horsepower on a single axle with dual wheels. For transporting around these parts, double-axle machines are just too long. That makes a big difference in towing."
With his breakfast cravings satisfied and a few phone calls answered, Ron headed off to work at a company he didn't expect to build, in a field he didn't want to be a part of. But in his words, it all turned out to be a blessing in disguise.
"Here I am 15 years later, living in the happiest place in the nation with a wonder multi-million dollar business and an awesome daughter. Life is good!"
---
Print this page