News Pellets
Comparing pellet export trends in the U.S. and Canada
April 18, 2022 By Madison's Lumber Reporter
As governments around the world rush to implement policies that address the topic of climate change, Canada and the United States continue to emerge as two of the most prominent producers and exporters of high-quality industrial grade biomass for use in global energy markets. In terms of value and volume both countries have seen steady growth in wood pellet exports to the world in recent years.
While the United Kingdom remains the largest export market for both Canada and the U.S., volumes have declined in recent years, especially from Canada. Canadian biomass exports to the UK fell 13.8 per cent from 1,456 thousand million kilograms in 2020 to 1,255 in 2021, while those from the U.S. dropped 3.9 per cent from 5,627 to 5,405 thousand million kg over the same period. This appears to be due to the UK's largest biomass-burning power producers sourcing more biomass from closer countries in the European Union as those nations continue to add wood pellet manufacturing capacity with the biomass market maturing and presenting less of an investment risk in many cases. In any event, declining UK import volumes have been more than made up for by increasing import volumes from other countries. For example, Canadian exports to Japan from 2020 to 2021 surged 78.6 per cent from 611 to 1,091 thousand million kg and U.S. exports to the Netherlands leaped 85.2 per cent from 630 to 1,167 thousand million kg over the same period.
In terms of domestic production, the massive disparity in number of biomass production facilities between the U.S. and Canada appears to account for the greater price volatility of biomass observed in the U.S. Madison's caught up with Gordon Murray, executive director of the Wood Pellet Association of Canada (WPAC), who noted that the greater number of producers and higher added annual capacity in the U.S. naturally create a more volatile market overall, while in Canada the smaller pool of producers and less additional annual capacity reduce volatility in a more mature overall market. Another factor, according to Murray, is the "lack of a real wholesale market in Canada's industrial biomass sector, with most Canadian volume sold directly from producers to overseas power companies under long-term contracts." He also anecdotally observed that spot cargo shipments of biomass are almost nonexistent in Canada but common in the U.S., reflecting the more robust wholesale market and higher volatility in the latter.
Prince George pellet plant shuttered, assets sold
Prince George, B.C.-based Pacific BioEnergy Corp. (PacBio) has ceased operations at the company's 550,000 metric-ton-per-year wood pellet plant in Prince George. PacBio announced plans in December of 2021 to permanently idle production at the facility, and company officials have confirmed its imminent sale. Richmond-based Pinnacle Renewable Energy – itself a recently-acquired subsidiary of UK energy giant Drax Group – will acquire long-term sales contracts for wood pellets, among other assets in the deal. Around 55 direct jobs are expected to be lost with the closure of the plant. A statement from PacBio noted the decision to shutter the plant was based on sawmill closures in the region, consequent reduced supply and increased costs of raw materials, and myriad logistical issues in the latter half of 2021 that inhibited the ability to transport pellets by rail to the export terminal in North Vancouver.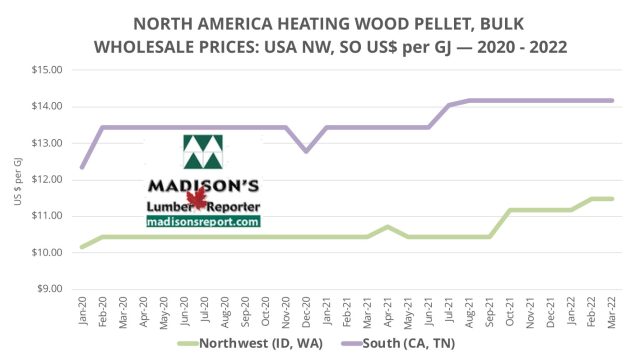 Residuals back-up at mills in southern Nova Scotia
In late February a biomass power facility located in Nova Scotia's South Shore region was taken offline after high winds knocked over its stack, causing extensive damage to the site. Sawmills in the area have been scrambling since to find another option to get rid of wood chips, bark, and other residual biomass from their operations which would normally be fired in the 30 MW Brooklyn Power plant to produce energy. Nine sawmills in the region sell the waste products of their processing operations to Brooklyn Power, and without a replacement market those residuals were piling up fast. A governmental representative recently commented that it was still too soon to know how long the necessary repairs will take to get Brooklyn Power up and running again.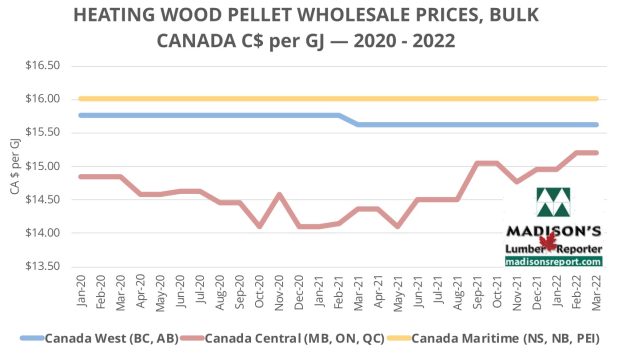 Canfor selling Mackenzie tenure and assets
Vancouver, B.C.-based Canfor Corporation recently announced a two-part agreement to sell its forest tenure, site, plant, and equipment in Mackenzie, B.C., in a $70 million deal. The company has entered into a letter of intent (LOI) with McLeod Lake Indian Band and Tsay Keh Dene Nation to sell in regard to the associated forest tenure, while a separate agreement was struck with Vancouver, B.C.-based Peak Renewables for the Mackenzie equipment and other assets. Approval for the tenure transfer still needs to be granted by BC Minister of Forests, Lands, Natural Resource Operations, and Rural Development. Canfor's Mackenzie sawmill produces Western-Spruce-Pine-Fir dimensional lumber.
---
Print this page