Equipment spotlight: dust safety 2022
July 11, 2022
By Canadian Biomass staff
A look at the latest dust collection and suppression equipment available for biomass plants.
IEP Technologies
IEP Technologies has introduced the IV8 Flameless Vent. The IV8 provides an explosion protection solution for process vessels which are located inside a building or other areas where standard explosion venting cannot be safely employed. The IV8 utilizes a stainless steel explosion relief vent and flame arresting mesh enclosed in a durable carbon steel coated frame. The integrated vent burst detection sensor allows plant personnel to respond accordingly in the event of an explosion within the protected application.
www.IEPTechnologies.com
---
Rembe
Innovative technology makes it possible to divert combustible dust explosion shock waves and flames in a controlled manner so the required safety area is reduced, valuable usable area is increased and personnel/equipment are protected from the explosion's effects. Rembe's Targo-Vent is an opening angle limiter developed especially for Rembe explosion vents. Targo-Vent guides pressure relief into areas where there is no danger to infrastructure or personnel. Targo-Vent absorbs the enormous repulsive forces of explosion energy and guides the flames/shock wave in the desired direction so usable area is increased.
www.rembe.us 
---
Fagus Grecon
One of the most efficient measures to prevent fire or dust explosion is the early identification of the ignition source. Fagus GreCon's new DLD 1/9 Spark Detector offers additional protection to industries with new intelligent detection technology (IDT). IDT not only identifies hazardous moving ignition sources before a fire breaks out, but the DLD 1/9 detector is also able to differentiate between dangerous sparks or harmless incidence of extraneous light due to leaky/damaged pipes or an opening of an inspection flap.
www.grecon.us 
---
Kice
Kice Industries has been designing and building dust control systems and equipment for over 70 years. When designing a dust control system, one must consider many factors ranging from the amount of dust emissions being created to the overall layout of the plant they are designing the system for. Every application is unique, and so Kice's dust control systems and industrial air filtration systems are all designed and constructed specifically to meet the needs of clients.
www.kice.com
---
BossTek
The DustBoss Atom from BossTek is a fan-less, self-contained unit that incorporates remote control and 4G LTE telematics technologies to deliver an unprecedented combination of suppression and monitoring. The Atom is well suited to biomass handling, bulk material processing, demolition projects, recycling operations, transfer stations, ports/shipping applications, quarrying/crushing, concrete curing and even indoor operations where significant air movement may be undesirable.
www.bosstek.com 
---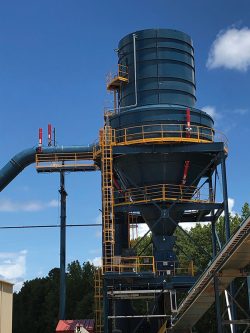 CV Technology
CV Technology's Interceptor-HRD Chemical Suppression System is capable of protecting very large dust collectors that are common throughout the biomass industry. The controller of this system is called The CONEX and it features the ability to operate up to eight independent operating zones at a time. A user interface is provided by an LCD screen, push button navigation, and signaling lights on the front of the controller enclosure. The interface includes a searchable data log and electrical lockout key switches for each zone.
www.cvtechnology.com 
---
Fike
Explosion vents, during a deflagration, open to safely relieve the pressure. However, "free venting" is only possible in outdoor applications. For indoor applications, this form of explosion protection often requires flameless vents. Fike FlamQuench vents feature a variety of shapes and sizes available, minimizing required surface area on equipment; virtually zero safety distance due to effective particulate retention; and performance validated with many dust types, including fine, coarse and fibrous dusts.
www.fike.com 
---
Advanced Cyclone Systems
Advanced Cyclone Systems works in very close co-operation with its clients in order to design custom made cyclone systems that really solve their unmet needs. ACS became a worldwide reference in cyclones, with over 350 successful installations in 37 countries and with several installations in Canada for biomass boilers applications with companies like KMW Energy, Clermond Hamel, Deltech, Fontaine Lumber, among others.
www.advancedcyclonesystems.com 
---
Scientific Dust Collectors
Scientific Dust Collectors offers a free third edition publication on dust collection titled, A Scientific Review of Dust Collection – Third Edition. It reviews the history, theory and application of all types of dust collection equipment. This third edition contains updated information on system design, filter media, explosive dust control and additional information on the new standard in measuring dust collector performance: ANSI/ASHRAE Standard 199. This is the first and only standard as it relates to dust collection equipment.
www.scientificdustcollectors.com 
---
VETS sheet metal
VETS Sheet Metal celebrated a century of business in 2021. Whether make up air or cooling MCC rooms or a specialization in dust collection and pneumatic conveying, every application requires a unique approach. Experienced trades coupled with specialized in-house engineering department can help engineer, design, fabricate and install a system that meets or exceeds comfort, safety and environmental requirements.
---
Allied Blower
For wood processing facilities demanding larger system capabilities, Allied Blower & Sheet Metal has a certified line of Back Blast Dampers (BBD's) that reach sizes up to 50 inches in diameter. The BBD can resist a vented dust collector explosion reaching a Pred of five psi (0.35 bar) for dusts with a Kst of up to 200 bar-m/second. This range provides safe operation for a large range of deflagrable dusts used in industry. When comparing the options of using a passive mechanical system or an active chemical suppression system, the mechanical systems are perceived to have less maintenance costs due to simplicity in function, design, training requirements, and the low frequency of inspections.
www.alliedblower.com
---
This article is part of Dust Safety Week 2022. To read more articles on dust safety, click here.
---
Print this page