FutureMetrics: South Korean REC prices down, Japanese imports up
March 9, 2020
By FutureMetrics
FutureMetrics has released an "Update on Asian Industrial Wood Pellet Markets," examining the current situation in South Korea, Vietnam and Japan.
Uncertainty about future demand in the S. Korean market remains high as REC prices continue to fall. The two charts below show the history of REC prices and the relationship between REC prices and the FOB Vietnam spot prices.
In recent months while REC prices have tanked, the Argus spot FOB Vietnam prices has remained in the range of $95 to $100 per metric tonne.
Lack of robust demand due to very weak REC prices suggests that S. Korean spot prices will only rise if supply is challenged. In 2019, Vietnam has pivoted into the Japanese markets where buyers able to afford higher priced pellets.
Meanwhile, Japanese imports continue to grow: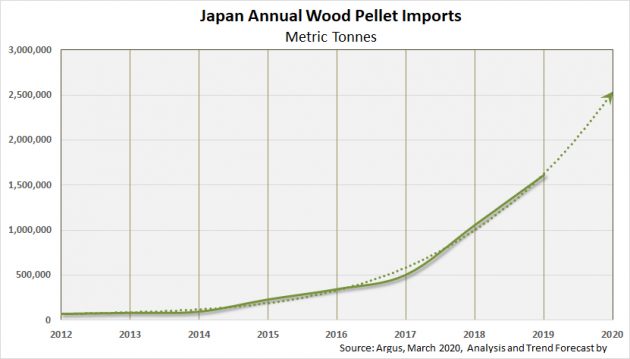 More details are available in the Japan Biomass Outlook Report and upcoming update. All past and current purchasers of the report will receive a free updated report by the end of April 2020.
Japanese policy will continue to evolve in 2020. The Ministry of Economy, Trade, and Industry (METI) will focus on the on how sustainability and GHG accounting will be applied to the rules and criteria that will allow the importation of wood pellets.
FutureMetrics continues to monitor the activities of the key METI committees by reading up-to-date Japanese language documents.
---
Print this page