Grinder spotlight
December 16, 2013
By Treena Hein
Looking for a new grinder in the near future?
Looking for a new grinder in the near future? The newest grinder offerings in Canada provide more flexibility and customization than ever. New features to boost manoeuvrability are now available, as well as much more compact versions of popular models. Many manufacturers are now offering electric-powered options as they are becoming increasingly popular among customers. Here are the latest descriptions and pictures of what's new and hot on the grinder market, heading into 2014.
Rayco calls its RH1754 grinder "an economical solution for producing high-quality mulch." This horizontal grinder is now available in a self-propelled version that rides on a heavy-duty steel track undercarriage. This adds another element of versatility to the RH1754, making it easier to move the machine around. The 240-horsepower track version of the RH1754-240 weighs just 20,500 pounds and is just under eight feet wide. A wireless radio remote allows each track to operate independently, providing precise control.
---
Bandit Industries offers four towable, four self-propelled, and four electrically-powered Beast recyclers/horizontal grinders. They range in size from 16-inch to 45-inch capacity with engines over 1,000 horsepower. All Beast recyclers/horizontal grinders can be outfitted as electric units, further enhancing the capability and efficiency of these amazing machines. The new XP-Series Beast recyclers/horizontal grinders feature over 35 specific enhancements in eight different categories. Highlights include revised augers for easier removal and cleaning, replaceable wear plates in mill housings, larger engine options and revised in-feed designs.

---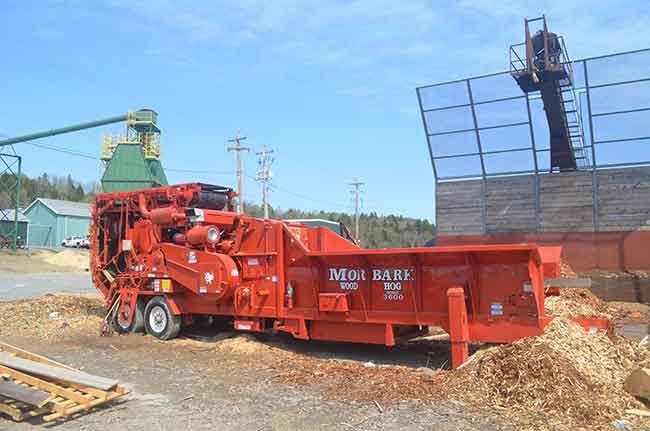 Aimed at wood and green waste recycling applications, Morbark's new 3200 Wood Hog is a compact and aggressive unit. It's a smaller, lighter and more affordable grinder that has all the benefits of their larger grinders. The 3200 can handle green waste, re-grind, sawmill residue, pallets and logs up to 14 inches in diameter with ease. Available as a tracked unit for greater mobility or with electric power, the 3200 can be built with Morbark's most popular options.
---
CBI introduces the Magnum Force 5800, a mid-sized upswing grinder designed to meet specific size constraints and built without compromising strength or performance. Decreasing headaches from load restrictions and permitting was one of the primary design goals of the 5800. The offset helix rotor, anvil, screen designs and dimensions remain similar to the CBI 6800 to retain its superior grinding performance; however, the rotor width is decreased to produce a machine with a total width under 2.55 metres and weight of 64,850 pounds.
---
As the cost of diesel fuel continues to rise, electric-powered wood grinders have become the grinder of choice for an increasing number of grinding professionals, according to HogZilla. A HogZilla electric-powered grinder such as the TC-1664SE has no engine to maintain, allowing more hours of operation per week. With no transportation concerns, a larger, wider and heavier HogZilla can be attained, along with a larger throw restraint and stacking conveyor. The TC-1664SE can come with a stationary tub guard, 16-foot tub and custom enclosure.

---
The VAZ 1600, one of Vecoplan's New Generation shredders, incorporates a wide range of innovations that improve performance, increase durability and decrease maintenance time. These features and options include direct drives, double sidewalls, reversible counter knives, hydraulic swing-up screen carriages, rotatable screens, and externally adjustable counter knives. Direct drives increase torque, eliminate drive belts, lower maintenance costs and decease machine base widths. Externally adjustable counter knives allow you to maintain optimal cutting tolerances quickly and easily.
---
New standard features and options for Rotochopper electrically powered grinders help minimize the costs of grinding and handling wood fibre fuels. With an optional trailer filling system, a Rotochopper electric grinder can now fill multiple bunkers or trailers, without repositioning any equipment. Optional wear packages dramatically lower operating and maintenance costs for highly abrasive feedstocks. An expended selection of rotor and tooth styles provides enhanced versatility to process a wide range of biofuel fibre sources.
---
The Vermeer HG6000 line of horizontal grinders is specifically designed to provide the production, versatility and intelligence needed to meet the demands of your jobsite. These grinders self-propel into the most remote jobsites on 20-inch (51-centimetre) or 24-inch (61-centimetre) double grouser track pads. They have a high ground clearance and sealed rollers that help keep material from building up in the track system, as well as state-of-the-art wireless remote technology that allows operation of the machine from up to 300 feet (91.4 metres) away.
---
DuraTech Industries manufactures a complete line of industrial tub and horizontal wood waste grinders, including the 5064 Horizontal Grinder pictured here, along with a 12-inch wood chipper. DuraTech's tub grinders have tubs that range in size from nine to 12 feet, with horsepower ranging from 325 to 1050. Their horizontal grinders are available in horsepower ranging from 475 to 1050. The versatile 2009 Tub grinder is now available with electric motor drives. A 400-horsepower, soft-start main drive motor as well as a 75-horsepower motor to power the hydraulic system are available in various voltages.
---
Diamond Z manufactures a complete line of tub and horizontal grinders, including diesel, electric, track and wheel mounted options for both. The grinders range in size from 43,000 pounds to the largest track-mounted grinder in the world at 180,000 pounds. They offer horizontal grinder models, from the compact DZH4000 to the largest track-mounted DZH 7000TKT Series. This picture shows the new Diamond Z DZH7000E electric grinder, with dual 700-horsepower electric motors driving the mill and a 250-horsepower hydraulic drive totalling 1650 horsepower, making this the world's highest horsepower mobile electric horizontal grinder.
---
W.H.O. Manufacturing Company now introduces its track grinder to the North American market. These grinders have been in operation in the Japanese market for the last six years. The grinders feature Caterpillar engines and track systems, reversing conveyors, 90-degree tilt tubs, full remote control for tub operation, grinder movement, and a radial stacking conveyor. The new track grinders are available in 10-, 12- or 13-foot diameter tubs with engine power ranging from 350 to 950 horsepower.
---
Replacing model 5100, Precision Husky calls its PG-5200 grinder the most powerful, easy-to-use tub grinder in the industry. It was designed with innovative features and advanced technologies to give customers the power and production needed to tackle the most demanding grinding operations. New features include the PT Tech totally enclosed wet hydraulic clutch, individually controlled auger motors with 20 per cent increase in rotation speed, Flexxaire automatic reversing, hydraulic actuation, variable pitch radiator fan and many others.

---
Doppstadt's DZ 750 grinder gives customers the best of both worlds. The unit boasts a slow-speed shredder on the front end and a high-speed grinder on the back end, all in one self-contained unit, allowing for the efficient production of a finished product from even the roughest of in feed materials. The large permanent magnet removes foreign materials before they can enter the high speed grinder for extra protection. Pre-shredding is carried out by the sound single-shaft principle and the hydraulically controlled shredding comb. Grinding is carried out by a fast-running flail drum with free-swinging tools. This combination can process even the most difficult materials in just one process step.
---
Peterson calls its new 5710D horizontal grinder the latest in a long line of innovative products from Peterson. With extensive input from existing Peterson customers, the redesigned 5710D features the latest in horizontal grinder technology. Powered by a 1050 HP Tier IV CAT diesel engine, the 5710D features a new hopper design as well as an optional transportation dolly to make moves between each job site easy.
---
Print this page