Madison's: New bioenergy projects coming to BC
November 12, 2021
By Madison's Lumber Reporter
B.C. bioenergy plant to reopen under new ownership
A 40MW biomass power plant in Fort St. James, B.C., is set to reopen after operations were shuttered in July of this year. BioNorth Energy, a joint venture between Vancouver-based Arrow Transportation Systems, the Nak'adzli Development Corp., and Dallas-based Nexus Program Management Group, will acquire the facility from the current owners, Veolia and Fengate Asset Management. Veolia's reasons for shutting the plant down were unclear, but apparently related to fibre challenges and operational troubles. For their part, BioNorth Energy has a complete recommissioning and fibre strategy that the company believes will revive the plant and bring back 35 jobs lost due to the closure. A further 100 indirect workers are expected to be employed procuring and delivering fibre to the facility. The acquisition is anticipated to close Nov. 15, with operations slated to start back up by mid-December.
Biomass-to-low-carbon biofuel plant coming to B.C.
A first-of-its-kind biomass-to-low-carbon biofuel operation is being developed in Prince George, B.C. The plant will convert sawmill residues – primarily bark – into high-value renewable biocrude which can be further refined to produce low-carbon transportation fuels. The Arbios Biotech project is a joint venture between Vancouver-based Canadian Forest Products Ltd. (Canfor) and Australia-based Licella Holdings Ltd.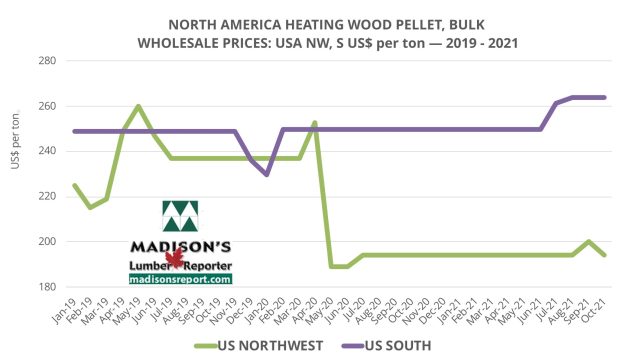 The project is expected to begin producing biocrude in the first half of 2023, with one processing line converting 25,000 dry tonnes of wood residue to 50,000 barrels of bio-oil on an annual basis. The facility will be constructed on Canfor's Intercontinental Pulp Mill site, with the potential for Arbios to expand operations up to four processing lines within the allotted space. The new plant represents Licella's latest scaling-up of its hydrothermal liquefaction (HTL) technology, building on the success of Arbios' CS-1 facility on the Central Coast of New South Wales. The project has received strong support from both federal and provincial government programs, including the issuance of credits under the country's Sustainable Development Technology Canada Fund, B.C.'s Greenhouse Gas Reduction Act, and the province's Innovative Clean Energy Fund.
---
Print this page