Registration now open for WPAC's annual conference and AGM!
July 19, 2021
By Canadian Biomass staff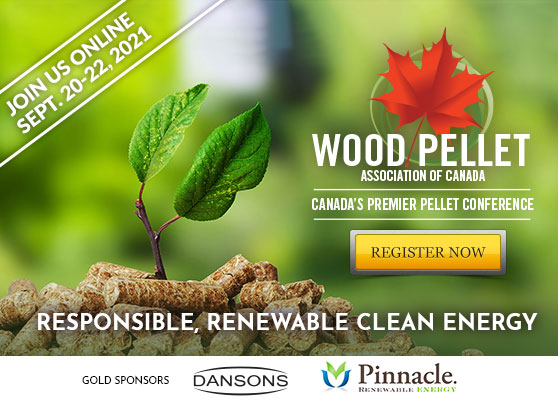 Registration is now open for the Wood Pellet Association of Canada (WPAC)'s conference and annual general meeting (AGM), taking place from Sept. 20-22. Due to the ongoing COVID-19 pandemic and travel restrictions, this year's conference will once again be virtual and free for all attendees.
The theme for this year's conference is, "Making a Difference Globally and at Home." Globally, countries and businesses are setting ambitious greenhouse gas (GHG) emissions reduction targets. Here in Canada, policymakers are increasingly focused on developing a low-carbon circular economy and beginning to recognize the potential of wood pellets.
WPAC and Canadian Biomass have put together a condensed agenda reflecting the opportunities for the wood pellet industry and key trends. Topics include:
Global market perspectives
Trends in responsible sourcing
Innovating our way to a safer, better product
Getting to net zero in Canada with pellets
The power of pellets in the emerging bioeconomy
The live portion of the conference will take place on Sept. 20 from 8:00 – 11:00 a.m. PST. The AGM – open to all WPAC members – will be on Sept. 21 from 8:00 – 9:30 a.m. PST, and the board of directors meeting will take place on Sept. 22 from 8:00 – 9:30 a.m. PST.
The full agenda for the event can be found here, and look out for on-demand sessions coming soon!
---
Print this page