Virtual Event
Conférence sur le chauffage à la biomasse des Maritimes
June 2, 2021 at 1:00pm ET
LA TOUTE PREMIÈRE CONFÉRENCE SUR LE BIOCHAUFFAGE MARITIME EST UN ÉNORME SUCCÈS
La toute première conférence sur le biochauffage maritime, , Net Zéro d'ici 2030 : Cultiver la plus grande source d'énergie renouvelable de la région, a été un énorme succès avec plus de 300 invités inscrits.
L'événement a eu lieu le 2 juin 2021 et a été organisé par l'Association canadienne des granules de bois et son partenaire médiatique Canadian BiomassMagazine. La conférence de trois heures, qui a été soutenue par les commanditaires or Heizomat Canada et Triple Green Products, ainsi que par les commanditaires argent Fink Machine Inc. et BCA Énergie, a réuni des experts en biochauffage de premier plan de partout au Canada et en Europe. Les participants ont entendu comment le Canada, en tant que deuxième producteur mondial de granules de bois, peut fournir aux marchés mondiaux et nationaux de l'énergie propre, renouvelable et responsable alors que les deux pays s'efforcent d'atteindre des objectifs ambitieux en matière de gaz à effet de serre.
La transition vers le chauffage à la biomasse est une victoire pour l'environnement et une victoire pour les ménages et les entreprises des Maritimes. En utilisant des ressources naturelles et renouvelables locales, des provinces comme la Nouvelle-Écosse et le Nouveau-Brunswick pourraient réduire les émissions de CO2 de 3,2 millions de tonnes par année, soit environ 16 % de la cible de la Norme canadienne sur les carburants propres pour 2030 pour les carburants liquides. Cela pourrait également se traduire par des économies de près de 1 milliard de dollars pour le chauffage domestique et commercial dans ces deux provinces.
Vous pouvez écouter les présentations voir plus bas pour apprendre comment le secteur de la forêt maritime mène la transition vers le chauffage à la biomasse moderne.
Horaire
Schedule
11:00am à 11:45am
Visite Pré-conference
Venez nous rejoindre pour une visite virtuelle de forêts gérées de façon durable, de scieries, d'usines de granules et de systèmes de chauffage aux granules modernes dans les Maritimes. Il y aura une période de questions à chaque arrêt de la visite. Détails à venir.

1:00pm - 1:08pm
Bienvenue et mots d'ouverture
Conférencier: Gordon Murray, WPAC et René Landry, Shaw Resources & VP de WPAC

Conférencier: Kody Blois, député de Kings-Hants, N-E, à la Chambre des communes du Canada
Conférencier: Dr. Jamie Stephen, TorchLight Bioresources Inc.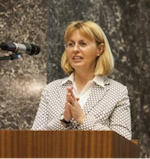 Conférencière: Christiane Egger, Agence de l'Énergie de la Haute Autriche
Conférencier: Theo Losier, Biomass Solutions Biomasse
2:35pm - 2:45pm
Pause
Conférencier: Terrence Sauvé, Ministère de l'Agriculture, de l'Alimentation et Affaires rurales de l'Ontario
Conférencier: Gustav Melin, Swedish Bioenergy Association
Conférencier: Dr. Jeremy Williams, ArborVitae Environmental Services Ltd.
Conférencier René Landry, Shaw Resources & VP de WPAC
Silver
Presented by
Frequently Asked Questions About Conférence sur le chauffage à la biomasse des Maritimes
When & Where?
Conférence sur le chauffage à la biomasse des Maritimes will take place virtually via Zoom Webinar on June 2, 2021 at 1:00pm ET.

There will be a 15 minute break between live sessions.
Why Virtual?
The safety and wellbeing of our employees, customers, and community is our number one priority. By making this event an online experience, it eliminates the need for attendees and sponsors to travel in-person, while enabling them to still benefit from the event content.
What's Included?
Your registration provides you with access to watch the virtual keynote, all live sessions, and on-demand recorded content and product demonstrations.
How do I access?
We will email you an access link to the virtual event the morning of June 2, 2021.
If you don't see an access link in your email inbox, please check your junk folder. If you are still unable to locate the email, contact
Tara Jacobs
.