March 23, 2016 - The expansion of the wood pellet industry in Canada has caused hammermill manufacturers to expand their product offerings to the North American market. As a result, there are more options for pellet mill equipment than ever before here in Canada.
March 23, 2016 By Staff Report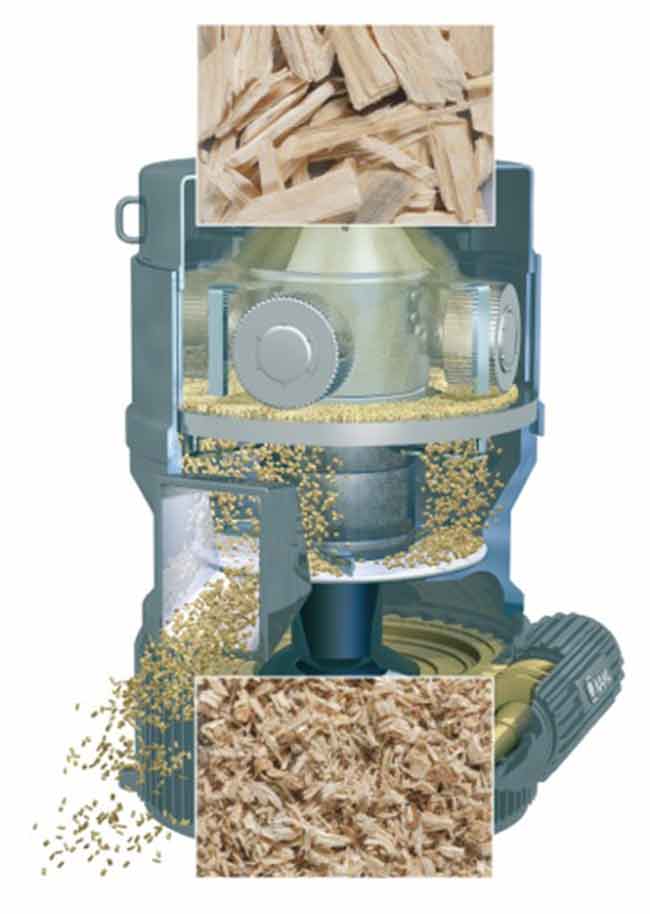 Here is a look at the newest in hammermill innovation and technology available for the Canadian wood pellet industry.
CPM
www.cpm.net
The HM Series 44" Hammermill features a screen area of 1,920 by 5,760 square inches and an HP range of 100-500. This rugged, high-efficiency hammermill features a high-density frame that's designed to minimize noise and vibration. This hammermill also features the air-swept teardrop design and Champion's patented regrind chamber. The HM Series Hammermill's one-piece, full-access doors mounted on unique pivoting arms allow the doors to move completely out of the way during service.
---
Bliss Industries
www.bliss-industries.com
Bliss Industries, LLC is a leading manufacturer of size reduction equipment. Bliss maintains a reputation of manufacturing the most efficient, reliable and well-built equipment in the industry. Bliss offers one of the largest hammermills on the market, the ED-4460-TF hammermill with 7,200 sq. in. of screen area. Bliss Industries has the ability to provide a wide range of mill sizes, tip speeds and drive power to meet the customer needs in any size of pellet operation.
---
Amandus Kahl
www.akahk.de
The KAHL Pan Fiberizer provides optimum crushing and grinding of wet wood chips and torrified biomass. This grinding process is appropriate for wet raw and dry torrified material, and is an alternative to a traditional hammer mill. The system does not require an aspiration system, explosion suppression, bagging houses or cyclones. There are no noise protection measures needed, the mill is smooth running in a very silent operation.
The Fiberizer is extremely cost effective due to the fact that it uses shear force to grind and cut the fibre instead of the high speed-high impact principle applied in traditional hammermills. Thus, the energy required and the wear costs are less in comparison with old style hammermills.
---
Schutte-Buffalo
www.hammermills.com
The Schutte-Buffalo Hammermill Series 15 Hammer Mill is an efficient, high production fine grinder. Built specifically for the wood waste market it can process chips, shavings, bark, hogged scrap and other materials to the exact finished particle size required for downstream processing. Schutte-Buffalo has over 80 years of experience building fine grinding hammer mills.
---
Jiangsu ZhengChang
www.zhengchang.com
The SFSP60 series hammermill features two types of hammers for equal wear and tear. The SFSP60 has improved design of base frame with good rigidity and little vibration. The inner grinder is studded with wearing plate for long useful life.
With the welded structure, the motor and the mill rotor are installed on the same base with direct-drive, compact structure, allowing you to change the sieve plate conveniently and quickly. The operation door is fitted with a safety interlock device, and the rotor checkout uses dynamic balance for minimum vibration.
---
Jeffrey Rader
www.terrasource.com
TerraSource Global's Jeffrey Rader brand offers a wide range of hammermills including FT and FTE Flextooth Crushers for larger products and Mini-Mill E, 30ABE, and 34ABE models for smaller products and sampling. "E" designations in each model signify the brand's exclusive E-Z Access technology, which allows safe, fast, and easy access to hammers, rotors, and liners. All models are equipped with heavy-duty rotors that can be set up with three, four or six rows of hammers.
---
Jiangsu Yongli
www.yongli-machine.com
The YHM68 Series Hammermill features a Siemens motor and SKF bearing. A U-shape grinding groove at the bottom of the grinding chamber can improve grinding efficiency 50 to 80 per cent. The feeding inlet is made at the side of the device to make feeding easy. The shell is welded together with steel plates for durability throughout the hammermill. The motor and rotor are installed in the same heavy-duty base using a coupling direct drive system. The rotor uses dynamic balance and has the ability to work in both forward and reverse.
---
Dieffenbacher
www.dieffenbacher.com
The machine is used for preparation of organic substrates for biogas production, wood-dust for energy and heat generation, wood-flakes for pellet production and many other applications. The working principle is based on the impact effect. Inside the impact chamber the material is resized with high kinetic energy by the fast rotating rotor and interaction of the particles themselves. A final calibration is realized by screens. The ClassiSizer is able to process different and inhomogeneous input materials to variable sized final particles.
---
Bruks
www.bruks.com
BRUKS has developed a high efficiency hammermill for biomass and biofuel applications. The hammermill features different types of rotors that can be used for wet and dry milling, as well as different types of screens to guarantee a top fibre quality. The unique design allows for fast and easy access for maintenance and service.
The machine can be equipped with various cleaning devices to avoid impurities like metal and stones in the milling chamber.
---
West Salem Machinery
www.westsalem.com
WSM's Super Shredder features a large 48" diameter rotor in lengths up to 88". The large size allows use of a single shredding/milling machine in the largest capacity applications, eliminating the need for multiple size reduction machines. The unique hybrid Super Shredder combines the efficiency of a high speed hammermill with the durability of a mill duty grinder/mill for continuous production.
---
Andritz
www.andritz.com
Andritz Series 6 Hammer Mill is now offered in both 38-inch (965 mm) and 43-inch (1,092 mm) diameters with grinding chamber widths ranging from 12-inches (305 mm) to 60 inches (1,524 mm). These mills can accommodate motor sizes ranging from 125 HP (90 kW) to 600 HP (450 kW). This unique Series 6 design was created to satisfy today's demanding applications and safety guidelines.
---
Print this page