Top 10 takeaways from Alberta Co-firing workshop
May 5, 2016
By Scott Jamieson
May 5, 2016 - How important was it for the bioenergy industry to fly the flag via a sold-out Biomass Co-Firing Workshop this past Wednesday? Put it this way – Despite the recent news-storm surrounding Alberta's pledge to phase out its coal-fired power plants by 2030, none of the province's major news outlets or business magazines had looked at bioenergy as an option.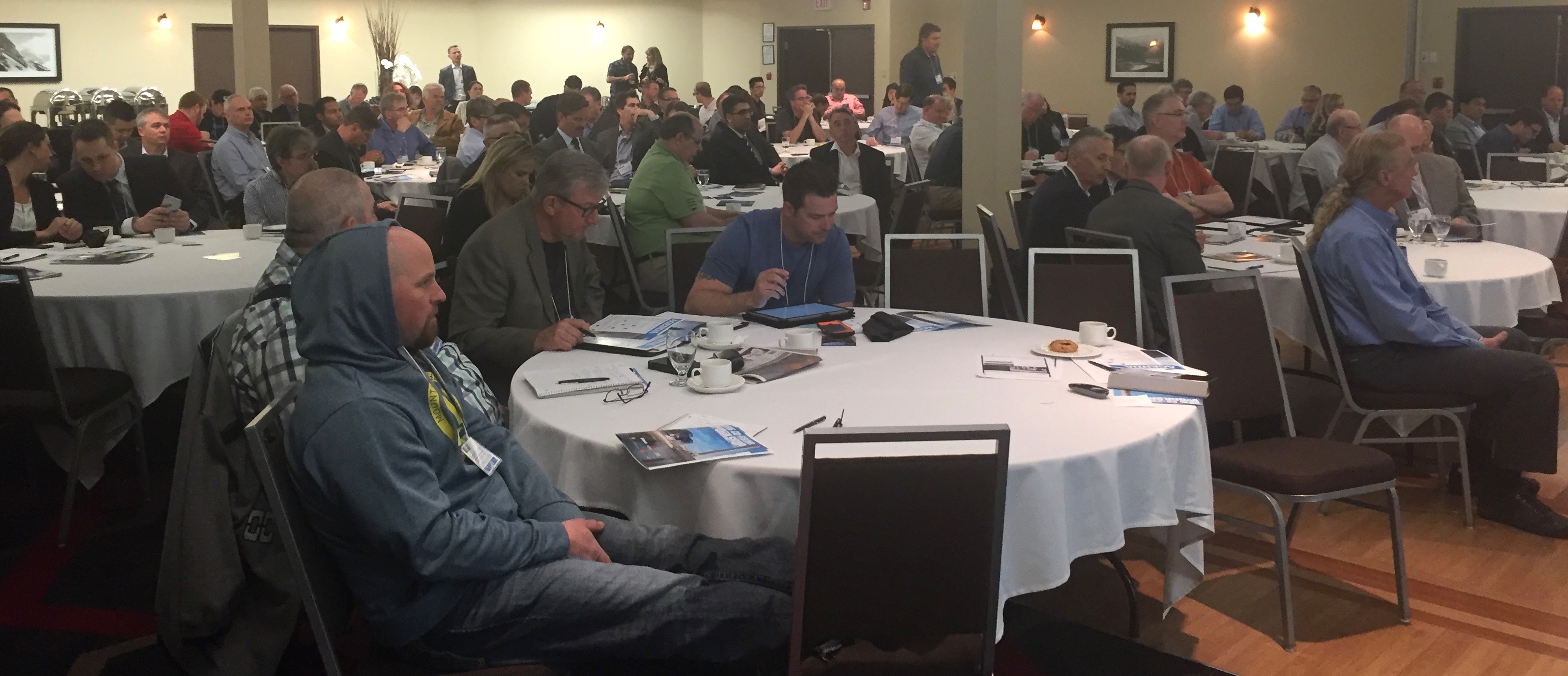 In fact with wind, solar and natural gas getting all the focus, one editor who had covered the issue extensively told Canadian Biomass that he "did not even know bioenergy was an option."
The good word
Time for some education and discussion then, and that's just what happened May 4th in Edmonton, where over 125 met to hear about wood pellets' possible role to meet Alberta's renewable targets without stranding existing generating assets. Produced by Canadian Biomass, the Wood Pellet Association of Canada (WPAC), and UBC, the workshop reviewed available technology, fibre supply, conversion challenges and opportunities, projects in other districts (U.K., Ontario), and feedback for one of Alberta's major coal-fired generators. Hers are Canadian Biomass' Top 10 Takeaways:
1) There is more than enough fibre both in Alberta and Canada to fuel a major expansion in pellet production to feed one or two large Alberta coal-fired plants without much of an impact in overall fibre availability. Presenter Jamie Stephen of Torchlight Bioresources estimates a gap between AAC and actual harvest of over 39 million bone dry tonnes (BDT) across Canada, as well as the availability of residues topping 30 million BDT.
2) The technology and processes are proven and expertise widely available to convert coal-fired plants to biomass. Presentations by Bill Strauss of FutureMetrics, Brent Boyko of OPG and Brian Moran of U.K. bioenergy giant Drax made that abundantly clear.
3) Converting coal plants to burn biomass can be done at lower capital costs than building new options to replace that power, according to Strauss, University of Toronto's Brad Saville, and UBC's Mahmood Ebadian. Small conversions using advanced biomass like OPG in Thunder Bay can see capital expenses in the $31/Kwh range, while full scale conversions to 100% biomass such as in Atikokan, Ont. can be in the $700-$800 range. Building a natural gas plant from scratch would be in the $1,200 range.
4) The execution gap is economic, something outlined with some precision all day, but driven home by Mark Mackay of Transalta, Corp. Transalta is one of the three major power generators in Alberta with coal fired assets on hand. "If we say the current power market in Alberta is paying roughly $22/Mwh, and biomass is looking like $85/Mwh, somehow we have to think that equation through. I think government policy will be a big part of getting this started."
5) And government policy is nowhere near clear enough currently in Alberta. Both speakers and attendees addressed this issue, while Toso Bozic of Alberta Agriculture and Forestry said we could expect to see much more detail and clarity by January 2017.
6) Both white pellets and "brown" pellets (steam exploded pellets or advanced biomass) are options, and the extent to which they will fit the bill will depend largely on the capacity utilization of the converted plant. For "super-peakers" like OPG's Thunder Bay biomass plant, both capital costs and the GHG footprint favoured the lower capital intense option of advanced biomass, in this case imported in relatively small volumes from Norway.
7) Biomass produced from sustainably managed forests is a very low carbon power generating option. With the carbon required in harvest, processing and transport considered, third-party studies done by OPG and others still point to an 85% reduction in carbon emissions versus coal.
8) Biomass conversions offer benefits beyond dramatically-reduced carbon emissions. Local and regional job creation through the building of bio-clusters should be front and centre in any attempt to gain political traction for bioenergy versus other options like solar and wind that tend to produce almost no long-term economic benefits.
9) The bulk of available biomass in Alberta and neighbouring B.C. is controlled by the major forest tenure holders, and so any solution will have to include them. Several speakers and attendees suggest the provinces could adopt a 'use it or lose it" approach like Ontario.
10) The next step is to build off the momentum created by this gathering of varied interests in Edmonton. In the closing chat, both WPAC executive director Gord Murray and Transalta's Mark Mackay agreed that parties should work together to get this viable peak option in front of policy makers in Alberta. "It's clear to me from this meeting that biomass is an option worth looking into, and that the will is there in this group to make it work," Mackay concluded. "But time is of the essence. We have to get in front of government with this, and soon."
Once again, a key issue seems to be the biomass sector's anemic public profile versus intermittent options like solar and wind.
---
Print this page