DEMO 2016 Grinder/Chipper Equipment Showcase
July 28, 2016
By Canadian Biomass Staff Report
July 28, 2016 - Canadian Woodlands Forum's flagship event is coming to Maple Ridge, B.C. from Sept. 22 to 24, 2016, so Canadian Biomass is keeping you in the loop about the chipper and grinder companies that will be at DEMO 2016.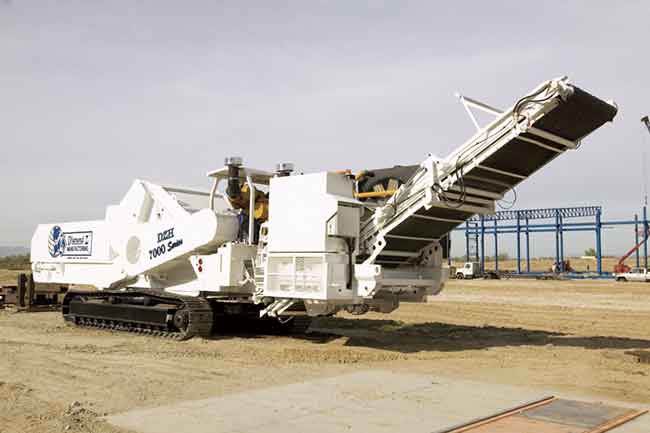 Bandit
DEMO 2016 Booth: A-7
Bandit Industries Inc., is a leading manufacturer of wood processing equipment for the logging, tree care, land clearing, biomass and recycling industries. Bandit offers a complete line of hand-fed and whole tree chippers, stump grinders, forestry mowers and The Beast Reduction Machines. The Beast, which will be on-site at DEMO 2016, will feature model options ranging from 16-inch to 45-inch capacity and engine options up to 1,000 horsepower. The Beast Reduction Machines are all manufactured in Remus, Michigan. See why professionals trust Bandit to build their bottom line. Visit www.banditchippers.com or call 1-800-952-0178 to learn more.
---
Peterson
DEMO 2016 Booth: A-2
At 88,500 pounds (40,150 kg) the 5710D horizontal grinder is designed for operations that require frequent moves between jobs without a special permit. An optional transportation dolly allows the Peterson 5710D to be easily moved, and then setup for operation within minutes. With a feed opening of 60 x 40 inches (152 x 102 mm) combined with Peterson's high lift feed roll; the 5710D can readily reduce a wide range of material including stumps. The Peterson 5710D horizontal grinder is powered by a Tier 4i Caterpillar C27 1050hp engine.
---
Morbark
DEMO 2016 Booth: A-5
The redesigned 40/36 Whole Tree MicroChipper is perfect for micro-chip producers. The latest model includes an enhanced drum set with 16 knives utilizing standard hardware, an operator-friendly slide-in forestry grate system to reduce oversized chips and a mechanically driven chip accelerator to fully load vans with the micro-chips. In customer tests, up to 95 per cent of the micro-chips produced passed through a 1/2-inch grate, and an average of 65 per cent passed through a 1/4-inch grate.
---
Vermeer
DEMO 2016 Booth: A-16
The HG6000TX horizontal grinder from Vermeer is powered by a 755-horsepower (563 kW) Caterpillar C18 Tier 4 final engine. The HG6000TX is equipped with 26-inch (66 cm) double grouser track pads to help reduce ground pressure. The suspension provides 7 inches (17.8 cm) of ground clearance under the track undercarriage, making it ideal for tough-to-reach jobsites and uneven terrain. With a ground speed of up to 2.6 mph (4.2 km/h), the HG6000TX can move quickly from jobsite to jobsite to help it keep pace with loading equipment.
---
DiamondZ
DEMO 2016 Booth: A-8
Attention to detail that lasts. The featured high-capacity, low maintenance DZH7000 packs the power you need for any grinding application. With quick screen changes of 20 minutes or less the DZH7000 keeps your downtime to a minimum. With horsepower options up to 1200hp and production capabilities up to 1,000 yards per hour (143 tph) this heavy-duty mobile grinder is equipped to chew up and spit out material with ease. The DZH7000 is available in transport and combination track and transport models.
---
Terex Environmental
DEMO 2016 Booth: A-19
Formerly known as the CBI 5800BT, the TBG 650 portable grinder was developed to feature the same principles of the TBG 680, but is purpose-built for contractors dealing with lower production needs or transportation restrictions. The TBG 650 gives land clearing companies, yard waste and demolition wood processors, and mulch yards what they need for high-volume throughput and maximum reliability. Among its notable features are the unique clamshell opening hog box for ease of maintenance, hydrostatic feed system and diverter pan.
---
Rotochopper
DEMO 2016 Booth: A-18
The EC series are built for mid-sized grinder uptime and efficiency and can deliver engineered fibre commodities from a wide range of raw materials. Upgrades to the EC platform include a full-length roller bed collection conveyor, roller bed discharge conveyor, wear liners, and independent colorizer controls (optional). These upgrades result in even cleaner operation, simpler maintenance, and lower operating costs than before. The advantages of these upgrades become particularly evident in facilities that grind steady streams of green fibre.
For daily show coverage of DEMO 2016, visit www.woodbusiness.ca or www.canadianbiomass.ca.
---
Print this page