FESBC accepts more funding applications, First Nation group seeks to reduce fossil fuel dependence
November 10, 2020
By Madison's Lumber Reporter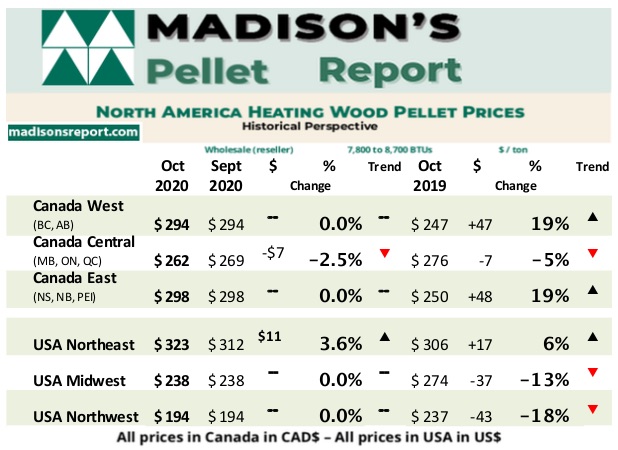 FESBC accepts more funding applications
The Forest Enhancement Society of BC (FESBC) recently announced its seventh intake for funding applications. Applications were accepted through the FESBC Information Management System from Sept. 28 to Oct. 16, with a focus on projects that increase utilization of wood fibre that would normally be left as waste, as well as rehabilitation of forests where low value or damaged areas can be cleared and then reforested to grow healthier stands.
According to the FESBC website, to date the society has approved 250 projects across the province, generating $357 million in economic activity, creating 2,124 full-time equivalent jobs, and utilizing 3.5 million cubic metres of forest fibre that would otherwise have been burned.
Canadian First Nation group seeks to reduce fossil fuel dependence
The Wiikwemkoong First Nation, located on Manitoulin Island, Ont., recently received $2,452,750 in federal government funding to explore the effectiveness of forest-based biomass and efficient residential heating sources. The funding was announced by the Canadian federal government's Health Ministry on Sept. 21 as part of a $13 million funding package for six fossil-fuel reduction projects across northern Ontario.
The Wiikwemkoong Development Commission's (WDC) Wood Pellet Heating and Infrastructure Project includes the installation of pellet stoves, biomass boilers, wood pellet furnaces, and wood pellet storage silos. The remote community has already converted 102 homes and eight community buildings to pellet fuel.
In addition to financing the Wiikwemkoong first nation's biomass endeavours, the funding includes:
$1,670,000 for Askii Environmental Inc.
$2,532,000 for Nishnawbe Aski Nation
$1,051,000 for Bingwi Neyaashi Anishinaabek
$4,168,000 for Sagatay Cogeneration limited Partnership
$983,000 for Wahgoshig
---
Print this page