Madison's: Global wood pellet demand – current and projection
November 7, 2019
By Madison's Lumber Reporter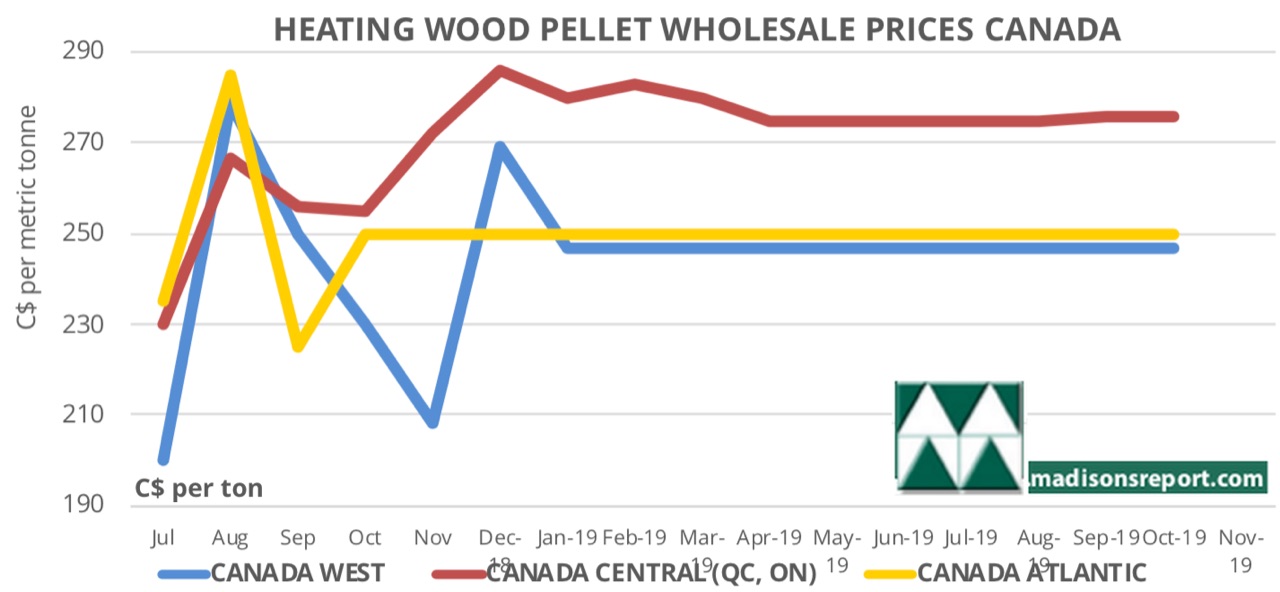 The size of the global wood pellet market for 2019 was estimated to be valued at over U.S. $8.5 billion, and is estimated to exhibit over 10 per cent CAGR from 2019 to 2025, said Global Markets Insights October 2019.
Over 22 million tonnes of wood pellets were shipped globally in 2018, up 21 per cent from 2017. The U.S., Canada, Vietnam, Latvia, and Russia accounted for 69 per cent of global exports in 2018. Demand for imported pellets in Japan and South Korea continued a three-year growth trend in the 4Q 2018, when import volumes reached new record highs of 339,000 tonnes and 993,000 tonnes, respectively. In 2018, the total annual import volume for the two countries was just over 4.5 million tonnes, more than doubling in just two years.
The residential wood pellet heating sector will account for the largest pellet market share throughout the Global Markets Insights study period. Growing product consumption in North America and major European countries will drive the segment's growth. Major countries in these regions have taken initiatives to increase dependency on renewable energy sources in order to reduce carbon emission.
Solid biomass from forests, farms and cities provides a major energy source for heat and power generation, potentially accounting for one-fifth of global energy consumption by 2050 amid accelerated adoption of renewables, said the International Renewal Energy Association (IRENA) in January 2019.
The authors of the IRENA report found that during the period from 2004 to 2015, the international trade in biomass for energy almost doubled, from around 800 PJ to 1,300 PJ annually. This is equivalent to about five per cent of the total bioenergy use globally in 2015. In respect of solid biofuels, the global trade in wood pellets increased from 30 PJ in 2004 to 220 PJ in 2015. The trade in charcoal increased from 30 PJ to 65 PJ over the same period, with fuel wood trade increasing from 35 PJ to 50 PJ.
In 2017, global production of wood pellets reached 31.7 million tonnes (Mt). Europe is currently the major market for wood pellets. The region is the largest consumer, the largest producer, and the largest importer in the world. North America (Canada and the United States) follows in second place.
Europe is also a key region for the international wood pellet trade. While most European consumption is produced within Europe, a significant share of demand is supplied from abroad, mainly from Canada and the United States. This is currently the largest intercontinental trade flow.
From 2009 to 2016, the spot price for industrial wood pellets at ARA (Amsterdam, Rotterdam, Antwerp) fluctuated between around U.S. $140/tonne and U.S. $180/tonne (Hoefnagels, Junginger and Resch, 2015; Argus Biomass Markets, 2016).
In addition, growth in the Asian market, especially Japan and South Korea, has been seen recently.
---
Print this page