Community biomass heating system wins environmental award
May 3, 2019
By District of Clearwater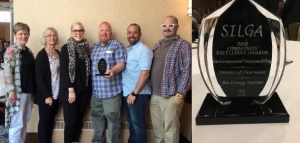 May 3, 2019 – The District of Clearwater in B.C. has been awarded the 2019 Southern Interior Local Government Association (SILGA) Community Excellence Award for Environmental Sustainability – Bio-Energy Systems.
The district signed the Climate Action Charter with the province of B.C. in 2008, adopted GHG reduction policy in the official community plan, completed a community energy emission plan in 2012, and in partnership with Wood Waste 2 Heat Rural Heat (WW2RH) commissioned a business case analysis for a biomass heating system for the Dutch Lake Community Centre.
The district submitted the nomination to SILGA under the environmental sustainability category highlighting our two biomass energy systems – one at the Dutch Lake Community Centre (municipal hall) and one at the North Thompson Sportsplex. Both of these facilities realized substantial energy savings. Through unique partnerships and utilizing wood waste from Canfor (free of charge) the first system was installed and operational in 2015, with the second project operational in the fall of 2018.
These systems have a proven track record – Dutch Lake Community Centre system has provided a reduction of 96 per cent to our propane use and an 8.7-year payback, and we anticipate an estimated reduction of 76 per cent in propane use and a six- to seven-year payback. The payback has been significantly reduced due to the funding provided for both system from the Wells Gray Community Forest Corporation.
---
Print this page