Madison's: West coast wood pellet industry investment update
February 9, 2021
By Madison's Lumber Reporter
B.C. port expansion boon to pellet industry
A recent announcement by the Government of British Columbia detailed a planned expansion of the Ridley Island Export Logistics Platform, which will significantly improve the Port of Prince Rupert's ability to transload wood pellets shipped aboard container vessels. The initiative will be funded through a mix of public and private investment, with the provincial government contributing $25 million to the $250 million total project cost. The project will expand the port's transloading capacity from 75,000 20-foot equivalent units (TEUs) to over 400,000 TEUs per year. In 2020, wood pellet shipments through this port were up 30 per cent over the previous year.
Progress for biomass project in Fort Nelson, B.C.
B.C.-based bioenergy company Peak Renewables is planning to build a wood-pellet manufacturing plant in Fort Nelson on the old Canfor site. The proposed facility would produce 600,000 metric tonnes of pellets per year, contingent on the sale of Canfor's Fort Nelson Crown tenure to Peak Renewables. The plant is expected to directly employ around 50 workers, while woodlands operations would support another 300 to 400 jobs.
Biomass heating system coming to Yellowknife, N.W.T
A district heating system powered by a 390 kW pellet boiler is nearing completion in Yellowknife, N.W.T. The project's first phase will provide heat to the territory's central warehouse, as well as three privately-owned buildings. Powering these buildings with the new biomass unit is expected to save the community roughly 60,000 litres of heating oil per year, or 90 per cent of current oil use. The territorial government is contributing $274,000 toward the project as part of its initiative to double the use of renewable energy for NWT heating by 2030. Feedstock for the boiler comes from Pinnacle's pellet plant near High Level, Alta.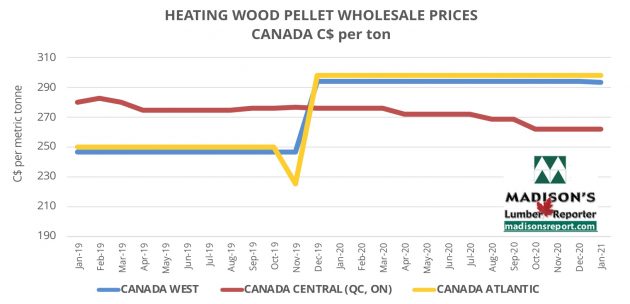 ---
Print this page