News
Charting growth: 10 years developing the Canadian bioeconomy
A look back at the last 10 years of growth in the Canadian bioeconomy through the perspective of Canadian Biomass' editors.
October 3, 2018 By Maria Church
Ten years is barely a blip in the histories of industries such as forestry, mining or oil and gas, but for the young biomass industry in Canada, a lot has happened in 10 years
It was just 10 years ago that this magazine launched with its first editor (now publisher) Scott Jamieson remarking in his inaugural editorial: "Biomass, bioenergy, biorefining — you name it and people want to know about it in Canada's forestry sector and related government departments. With the industry in tough times and energy costs soaring, it makes sense. … We're on the verge of a biomass explosion on this continent — mark my words."
Explosion may not be an apt description for the industry's growth over 10 years (and I've been told it's a faux pas term in the pellet world), but biomass has certainly experienced significant milestones in spite of challenges that producers and users continue to face.
Looking back at 10 years of comments by Canadian Biomass editors can give us insight into how companies faced these challenges, and what we can learn from them now.
Sustainability
I doubt you'll find any of the magazine's 60 issues escapes discussion about the sustainability of the biomass industry; that includes concerns about harvesting levels, profits and demand. Whether it's a consumer's decision to purchase a biomass alternative, or a producer's decision to pursue a new biomass product, sustainability is truly the name of the game.
In 2008 the traditional forest products sector voiced concerns that the demand for biomass could threaten access to affordable fibre. Jamieson noted in the November/December editorial that those fears are without base in Canada where the bioenergy sector cannot outbid traditional players for fibre and still be competitive with other energy sources. "Biomass will be a part of a strong forest products sector for some time to come," he stated. This continues to be the case in Canada. Most forestry biomass producers are integrally tied to lumber producers, with a few exceptions. Even those exceptions rely on agreements with nearby lumber mills for sawdust and shavings.
But with advances in technology, such as the Dieffenbacher ClassiCleaner installation by Pacific BioEnergy in Prince George, B.C., pellet producers can increase their access to forest residuals typically too contaminated to process. In the future we may see more independent producers setting up shop.
For the pellet industry it's vital to demonstrate sustainability to customers. "Just as ethanol producers have been accused of driving up food prices, wood pellet producers are under suspicion for using too much wood," Amy Silverwood wrote in the March/April 2014 editorial. She urged pellet producers to consider standardization to prove they offer high-quality product that is sourced from sustainably managed forests. As she predicted, building on established forest industry quality and sustainability standards helped drive the industry forward over the coming years.
Other forestry biomass producers, such as biochar and biofuels, are also carving out a piece of the forest products' pie, albeit more slowly. Over the years some projects have came and gone, but as Jamieson pointed out in the January/February 2010 editorial, new biomass projects need to consider all the variables — fibre supply, public policy, fuel costs, etc. — before confidently heading to a banker for funding. More than eight years later, projects that took that advice are humming along.
Markets
It's impossible to discuss the biomass markets with blanket statements. Each subset within the biomass industry is at a different stage when it comes to market development. Bioenergy is by far the most established market both in Canada and worldwide. Biofuel from corn and wheat ethanol, too, is a fixture in the North American landscape.
The markets for bio-products and forestry biofuels, like the technology by which they are produced, are developing slowly.
If the forestry biofuels sector could sell potential, companies would be rich. But finding a market for the bio-derived fuel hinges on good timing — not too early and not too late, but just as it takes off, as Heather Hager pointed out in her September/October 2009 editorial. At the time, no forestry cellulosic ethanol producers were at a commercial scale. Hager predicted as soon as 2010 or 2011 for the first commercial scale plant.
To this day there is no commercial producer, however Ontario's Enzyn Technologies is building the Cote Nord Project in Port Cartier, Que., along with Arbec Forest Products, that will produce 10 million gallons per year of biocrude from forestry residuals. The project is expected to be operational by the end of the year. Canfor and Licella are also building a biocrude refinery that will produce 500,000 barrels a year from Canfor's Prince George, B.C., pulp mill.
Two notable cellulosic ethanol producers have found commercial success from other sources. Ontario's Iogen Corporation's technology is used in a commercial scale plant in Brazil to produce ethanol from sugarcane, and Enerkem in Alberta produces ethanol and biomethanol from municipal waste.
Wood pellet producers experienced perhaps the most significant growth in market demand over the past 10 years. In spite of Hager's warning in the September/October 2010 editorial of upcoming competition for the EU market from U.S. pellet producers such as Enviva, pellet exports surged less than three years later. "As more facilities convert to co-firing as a way of reaching government targets, Canadian wood pellet producers will continue to smile and ask, 'How much do you need?'" John Tenpenny wrote in the March/April 2013 editorial.
Taking advantage of sustained demand in Europe, the B.C. pellet industry expanded significantly in 2014-15. Andrew Macklin stated in the March/April 2015 editorial that more than five new pellet projects were added to Canadian Biomass' annual pellet map, adding much needed capacity for the export market.
Ontario Power Generation's second pellet conversion in Thunder Bay (the first in Atikokan was in 2014) fired up in late 2015 causing a domestic market demand spike. The conversion cost just $5 million, Macklin noted in his November/December 2015 editorial, which set a strong example for other provinces still firing coal. In July 2018, OPG announced the Thunder Bay station was permanently shut down due to boiler corrosion damage. It's a sad blow to industrial pellet market in Canada, however, hope remains that other coal-firing provinces will consider a conversion to pellets.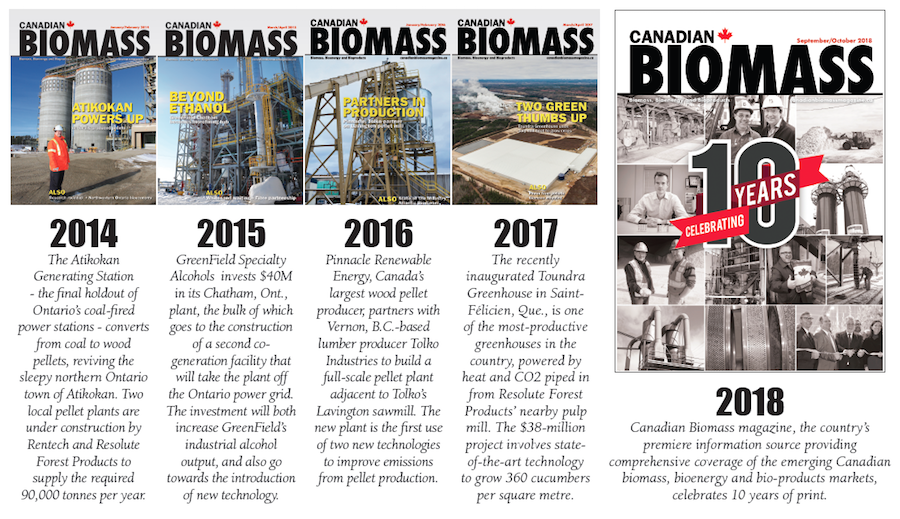 Public perception
The biomass industry has weathered many broadsides to its reputation from environmentalists, unfriendly industry associations and negative news stories. Every few issues Canadian Biomass editors remind readers to counter the spread of misinformation as it happens.
Hager's November/December 2009 editorial chided the biomass industry's lack of public education. "It's time to brush up this image of biomass if it is to remain a viable renewable energy option," she states. Less than a year later, in mid-2010, Hagar reports in the July/August editorial that at least seven U.S. biomass power plants were scrapped due to public opposition of "dirty plants". Education and communication continue to be stumbling blocks, she said.
Environmentalists' PR campaigns rely on language that lead readers to specific conclusions, Jamieson explained in his November/December 2011 editorial. They espouse an all-or-nothing world view that doesn't exist. Biomass is not a silver bullet, he said, but, once combined with other alternative energy sources, is on track to a better energy mix.
One way to counter misinformation is to tell Canada's unique biomass sustainability story. Jamieson stated in the May/June 2013 editorial that Canadian biomass producers should be promoting their certifications, integrated fibre supply and low carbon footprint. "The industry must be able to quantify and effectively communicate these key factors so that everyone along the supply chain understands the Canadian biomass advantage," he wrote.
In early 2017 U.K. think tank Chatham House published a report questioning government decisions to treat biomass as carbon-neutral. Biomass experts were rightfully concerned about the impact of such a report and were quick to go on the offensive. Andrew Snook shared compelling evidence against the report in the March/April 2017 editorial, and wrote: "I never thought I would be using the term 'alternative facts' in an editorial. How times have changed."
Times have indeed changed and biomass producers must be up to speed with the reality of "Twiplomacy", or Twitter diplomacy. While the term is typically used to refer to the Donald-Trump effect on international diplomacy, it seems an appropriate way to describe the need to tackle misinformation as is originates on non-traditional media sources.
Safety
Public support is dealt a crippling blow when safety is compromised at a biomass project. This is most keenly felt in the wood pellet industry.
In the May/June 2010 editorial, Hager noted that in one month three wood dust-related fires were reported. Her advice at the time holds true today. "Best practices include: housekeeping standards to minimize dust build-up; functioning fire safety and prevention measures/systems; self-inspection programs and record keeping; preventive maintenance programs; third-party auditing and certification of fire/explosion risk management systems; and industry-wide monitoring, evaluation and annual program revision," she wrote.
Tennpenny reported in the September/October 2012 editorial that new research from Staffan Melin with the Wood Pellet Association of Canada explains a dust management method specific to wood pellets that can eliminate much of the risk with minimal costs. "In pellet manufacturing plants, cleaning and monitoring dust levels hasn't always received the attention it deserves," he wrote.
A close call at Pacific BioEnergy in August 2017 was a keen reminder for pellet producers to keep up to date with the latest research in fire safety. Fire crews injected nitrogen gas into a smouldering pellet silo to successfully extinguish the fire. It was the first successful extinguishment at a pellet plant in Canada, and hopefully the beginning of a new trend of well-researched corrective measures by firefighters and pellet plant staff.
Onwards
As these four themes continue to crop up in our pages, companies should pay attention to new solutions to and new ways to succeed.
Editors, unfortunately, aren't fortune-tellers, but we do have a unique insight into the industry courtesy of the job, which takes us to many conferences and gives us access to the inner workings of companies. So while I can't predict the next 10 years of biomass growth in Canada, I expect the industry to flourish as companies grow older and wiser, firmly rooting in the economic landscape.
One success at a time, we are telling the story of the rise of the Canadian bioeconomy.
---
Print this page